Recently, the world-renowned carpet brand, Mr. Matt Murray (Matt Murray), executives of American Mohawk Group, and representatives of Mohawk Group kelvin Liu, Cabala Zhuang and others visited Ningbo Bohan Crafts Co., Ltd. for business inspection and economic and trade exchanges. It is reported that this is Mr. Matt Murray's first visit to China.
Matt Murray's visit to Bohan represents Mohawk Group's long-term recognition of Bohan's process quality, corporate reputation and business philosophy.
During the visit, Matt Murray took pictures of Bohan's processing equipment and manufacturing techniques one by one and observed carefully. When he encountered a favored product style or technologically advanced production equipment, he would break the casserole and ask the end, Bohan The staff will take the trouble to answer questions for them.
Mr. Matt Murray (middle) is visiting the
production workshop of
Bohan
Technology.
Along the way, Matt gave him a thumbs up many times, and he was deeply impressed by Bohan's advanced production technology, rich product styles, and beautiful production environment.
The guests visited the Bohan craft production workshop.
When he saw the flowers blooming in the factory, Murray seemed to tell everyone with emotion that he himself liked flowers very much, and his grandmother had a large rose garden.
The environment of Bohan Craft Factory is beautiful, and all kinds of flowers planted are open all year round.
During the several hours of the visit, the tall foreigner sometimes earnestly forgets me, sometimes is funny and humorous. On the one hand, he tirelessly inspects the products without rest for three or four hours; on the other hand, he picks up his mobile phone and plays with the staff. After the match, when the staff handed over a can of iced Coke, he was overjoyed like a child again, showing a happy smile.
The guests are visiting the Bohan craft production workshop.
Mr. Matt Murray and his party were warmly welcomed by Bohan Technology from all over the company, and several guests also praised Bohan Technology's product design and corporate competitiveness. Both sides expressed their expectation to continue to increase cooperation in the future, create favorable conditions for each other, and promote trade exchanges between the two sides.
According to the plan, Mr. Murray and others then rushed to Jiangsu and other places to inspect other production bases of Bohan Technology. At the moment of his departure, Mr. Murray said that Bohan Craft is a very good trading partner, which left a deep impression on his trip to China, and also gave him a better understanding of Chinese manufacturing and Ningbo private entrepreneurs. In the future, if there is a chance, I will definitely come to Zhejiang again, and then come to the beautiful Ningbo Hangzhou Bay New Area.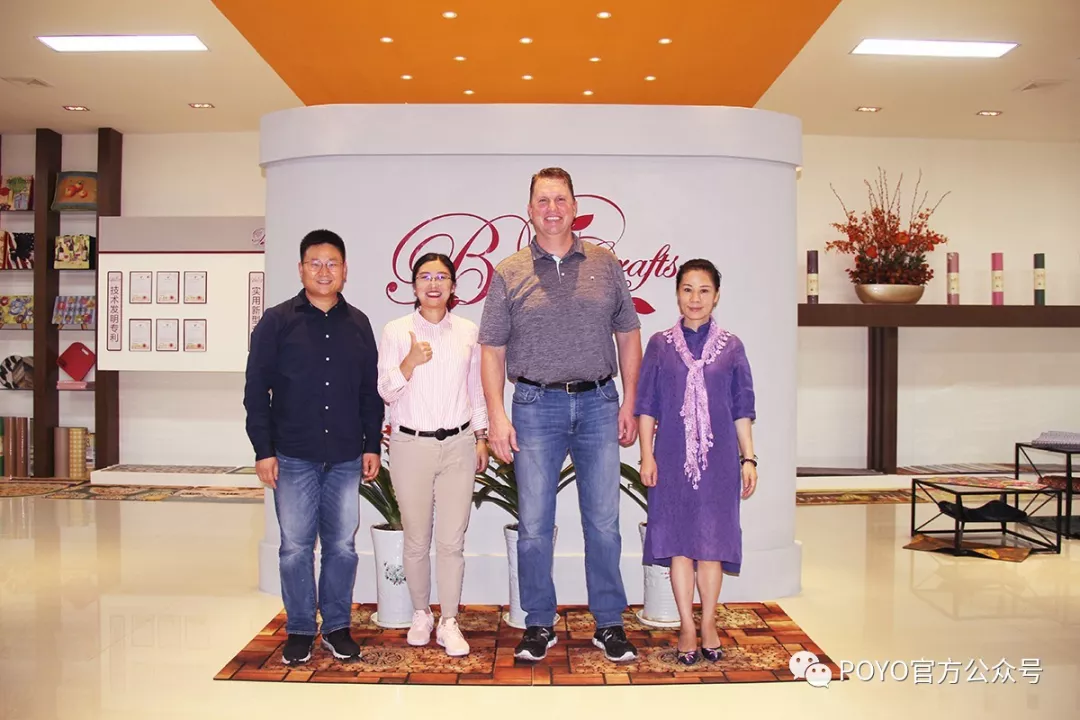 Yan Hongjun (first from right), general manager of Ningbo Bohan Arts & Crafts Co., Ltd., took a group photo with guests such as Matt Murray (second from right).
Since its establishment in 2002, Ningbo Bohan Crafts Co., Ltd. has always been committed to the development of the field of floor mats, and has now become one of the largest domestic floor mat product companies integrating R&D, design, production and sales.
In 2015, for the domestic market, Bohan created the "POYO" brand. Its products cover doormats, kitchen mats, indoor multifunctional mats, anti-fatigue mats, yoga mats and other series. There are thousands of flower patterns that can be used in different In the home style, the functionality of the floor mat and the craftsmanship of the home are perfectly combined.
Bohan's exquisite sample room and patented wall.
At present, Bohan Technology has obtained 6 national technology invention patents, more than ten utility model patents and dozens of appearance design patents . The craft floor mats and other products produced are now sold in dozens of countries and regions in Europe, America and other international markets, among which Mohawk Group is one of its most powerful trading partners.
In the future, Bohan people will continue to carry forward the spirit of craftsmanship and enhance core competitiveness with innovation.
Mohawk Group is one of the world's leading manufacturers of carpet home products. In 2012, its carpet manufacturing scale ranked first in the world. With the continuous improvement of research and development technology for more than one hundred years, MOHAWK carpet has very advanced manufacturing technology. Among them, the patent of single-layer low back + composite carpet surface (UPS or Ultra Performance System) is internationally recognized, creating a unique Production technology.
Headquartered in Georgia, the group is the first company to manufacture woven carpets in the United States. It was founded in 1825 and has a long history of nearly two hundred years. Mohawk's carpet manufacturing technology is world-renowned. Its customers include high-end groups such as royals and nobles, as well as a large number of business white-collar workers and other social elites.